Quite some time has passed since my last blog! A lot has happened. So, please scroll down. I've been immersed in building up the homeless ministry and I am happy to report, that it's going GREAT!  We put together 60 to 84 sack lunches on a weekly basis and pass them out in North Hills and Thousand Oaks.  In addition, we organize clothes and sock drives. During the holidays, we distributed a generous amount of gifts. We also gave out a large supply of brand-new items like shoes, reading glasses, books, toiletries, underwear, shaving kits, etc.  If you like to know more, follow us on Facebook. We have a Public Group and also a Facebook Page. Sharing these Facebook sites help create interest and awareness.

Regardless of being extremely busy, I've also been blessed with some really exciting projects. I've designed 20 different scarves for kiebortzjewishgifts.com. They are very multipurpose and can be used as everyday scarves, head coverings for Shabbat candle lighting, prayer shawls and even converted to tallitot. The scarves have already made it all the way oversees!
I am now working on some 53 x 53 in. square designs that can be used for either a chuppah cover, a sukkah backdrop or simply as a wall decoration. They are customizable. Here are some pictures of the process and new designs.
I was extremely honored, that the Charles E. Smith Life Communities have asked permission to use one of my images to thank their donors to wish them a Happy Passover.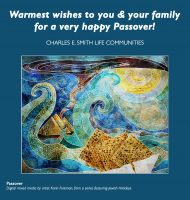 On May 21st, the CAJE was having a Celebration of Learning honoring their Executive Director, Rabbi Efrat Zarren-Zohar. As a gift, they chose "Trust", because they wanted to present her with a painting that highlights powerful women in Judaism.
Last but not least… my "Shabbat Candle Lighting" is rapidly becoming one of the most versatile showcased mixed media collage. It is being used by an Orthodox Jewish Organization as well as a Spanish-speaking Catholic Music Ministry! It will also be exhibited at the Amsterdam Int'l Art Fair at the Beurs van Berlage from 25-26 August 2017. This International Art Fair features 3,000 art pieces of modern and contemporary art by 150 artists from around the globe! If you happen to be in Amsterdam, be sure to check it out.